COVID-19 & Legislation Updates | Workplace Recap from July 22 to August 22, 2022
COVID-19 & Legislation Updates | Workplace Recap from July 22 to August 22, 2022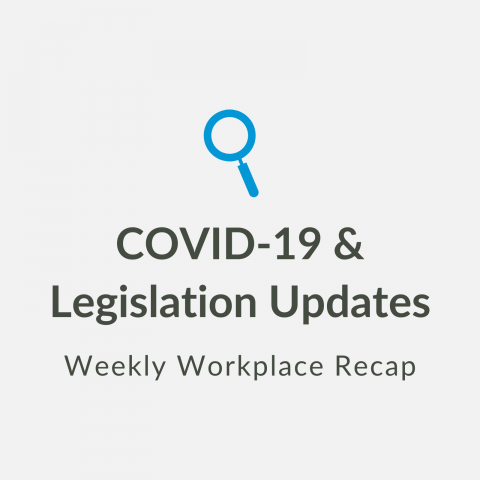 Sarah Visca | Aug 22, 2022

Below are the key COVID-19 & legislation topics that touch on the workplace from July 22 to August 22, 2022.
---
Ontario
Ontario releases new guidance on electronic monitoring of employees
Ontario's Ministry of Labour, Training and Skills Development has recently released new guidance that will help employers in creating a written policy on electronic monitoring of their employees.
On February 28, the Ontario government introduced the Working for Workers Act, 2022 (Bill 88), which includes changes to the ESA. One of the changes includes requiring employers to inform their employees if and how the employer is monitoring employees. The bill took effect on April 11.
Under the new guidance, employers with 25 or more employees as of January 1 must have a written policy on electronic monitoring of employees by October 11. Beginning in 2023 and each year after, employers with 25 or more employees on January 1 of any year must have a written policy before March 1 of that year.
---
Alberta
Alberta launches new search tool for health and safety laws
The province of Alberta has launched a new search tool on occupational health and safety (OHS) legislation to make it more accessible for employers and workers.
The OHS legislation search tool consolidates the OHS Act, regulation, and code into one interactive and online resource. It contains a word-for-word copy of the act, regulation, and the code as it appears in the Alberta Queen's Printer, the source of Alberta's laws, materials, and publications.
It will enable employers and workers to more efficiently access and apply the health and safety rules that apply to their workplace. A searchable web-based version of the legislation means people can quickly navigate and share individual sections from all three components of OHS legislation in one place. It is designed for use on both computers and mobile devices.
---
British Columbia
WorkSafeBC amends rules on the refusal of unsafe work
Employers are now required to inform workers about a previous work refusal before reassigning the work.
Amendments to the Occupational Health and Safety Regulation (OHSR) are coming into effect on Aug. 22, 2022, that will strengthen worker protections on the right to refuse unsafe work.
Prior to the amendment, the regulation did not explicitly prohibit the reassignment of refused work, or require the disclosure that another worker had refused the task due to health or safety concerns.
Under the new rules, employers are required to notify workers in writing of any unresolved work refusal due to safety concerns. It also requires employers to tell the subsequent worker the specific reasons the first worker felt the task was unsafe. The employer must also explain why the task would not create an undue hazard to their health and safety.
For more information on the amendments, please see Regulatory amendment: A primer on refusing unsafe work.