10 Good Reasons to Ask Candidates to Make an Interview Presentation
10 Good Reasons to Ask Candidates to Make an Interview Presentation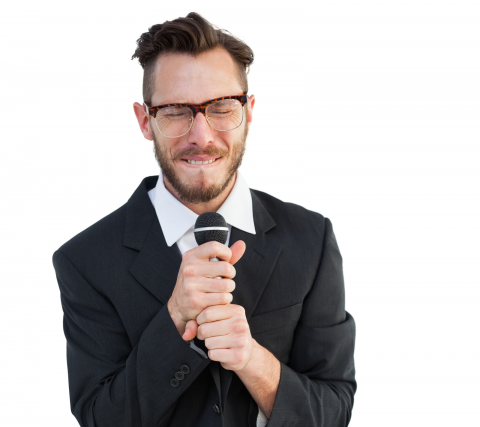 Ariane Laird | Jun 15, 2016
This article includes an editable Interview Presentation template and an accompanying instructions document for your managers.    

Don't want to read the entire article?  Fair enough.  We've highlighted the template in yellow so you can find and access it quickly.
---
Bob is a senior candidate for a VP, Sales position and has been invited back to ABC company for his last meeting with an interview panel.  Fantastic.  Next step?  Get out that Q&A interview questionnaire and ask him a series of standard questions. Or is there a better way?
There is.  Ask Bob to come prepared to make an interview presentation.  
What's an Interview Presentation?
In a presentation-style interview, a senior-level candidate is asked to make a short presentation to the interview panel, followed by a Q&A period.  The presentation length can vary but typically doesn't exceed 20-30 minutes.  It's up to the interview lead to decide what presentation tools or mediums the candidate can use.
Example interview presentation topics:
New Product or Service – ask the candidate to make a pitch about a new product or service.
Problem-solving – provide the candidate with a position-related problem and ask the candidate to present 2 or 3 solutions. 
Sell Yourself – ask the candidate to present their skills and experience, and how they would add value to the open position and to your business.
  
Sample Presentation-Style Interview Questionnaire 
Take a look at a sample Presentation-Style Interview Questionnaire for conducting a presentation interview.  It comes with an accompanying instructions document for your managers.  Both can be previewed, downloaded and edited using Microsoft Word.  
10 Benefits of an Interview Presentation
There are many advantages to a presentation-style interview.  It allows the interviewer to:
​Test the candidate's communication style
Are they articulate? ​Can they be succinct? If you provide the candidate with 20 minutes for the presentation, can they get the message across without running out of time?  Or are they rambling without a pause preventing you from finding a window to move the presentation along?
Can they explain a complex topic to their grandmother?  Getting someone to explain something technically complex to a lay person is a great way to see if the candidate can communicate.
Observe their presentation skills
​If one of the competencies required for the senior position is the ability to deliver presentations, there's no better way to observe this skill than in real time.  
Experience their relationship building skills
​How does the candidate interact with the panel? Do they very quickly connect with you?  Are they engaging?  Do they exude confidence, passion, competence and trustworthiness? How do you feel in their presence? 
Are they reading the room?  Taking cues from panel members' body language? 
If the senior candidate will be leading or dealing with people - particularly in situations where first impressions matter - this is where rubber meets the road.  
Test their persuasion skills
​Is your inside voice rolling its eyes?  Do you find yourself wanting to scream "Seriously?" (Or if you're under 30, RUKM?)  Or are you persuaded by the materials?
If the position requires that the candidate get the support of others, their ability to persuade can be observed in this forum. 
Get their perspective on an issue
How will an impending law impact your industry or company?  Is an emerging technology an opportunity for your products?  Are economic changes a threat to your business?
​Asking a candidate to provide their perspective on a salient issue is an opportunity for you to gain insight into the candidate's critical thinking and problem solving skills.
Test their industry knowledge
How networked or connected are they?  What news feeds are they subscribed to? 
​Is the candidate up to date with current industry best practices and leading edge trends?   Have they successfully early adopted an emerging trend to solve a problem?
Asking a candidate to speak about industry trends and how those trends could be used to solve a problem is a powerful indicator of their level of natural curiosity, intellectual horsepower, and the level of effort they are willing to put into staying current and relevant. 
Test drive one big area of the job
​Does the candidate have the right kind of experience in one big area of the job?  Test drive them.  Ask the candidate to present on a position-related problem.  Outline a fictitious (or real) challenge that could be relevant to their upcoming role and ask them to deliver a presentation to

senior management

outlining their best solution. 
See how thoroughly they prepare
​Does the candidate come into the meeting flustered and can't wait to tell you all the reasons why they didn't have time to prepare? Do they speak in generalities that could be a response to any generic brief? Or do they nail it and there's no doubt that they researched the subject matter and put some effort into delivering a kick-ass interview presentation? 
Interviewers can determine pretty quickly how much effort the candidate put into the presentation which can be a good indicator of the individual's approach to assignments.
Preparation effort is particularly important for candidates from outside your industry.  Don't be surprised if they offer the freshest perspective.  Candidates in your space often put in the least preparation effort and think they have little to prove.
Observe how the candidate performs under pressure

Is the candidate sweating profusely?  Stuttering, or getting red in the neck?  Or can't recover from a fumble? Are they overly self-deprecating or making you itchy with their high level of discomfort with the process? Did they cry? (It happens.)
​​There's nothing wrong with any of these scenarios and a personal judgment should never be made in these instances. Interview jitters are to be expected and we've all had an off day when it comes to a presentation.  If there was ever a situation where the old adage "treat others as you would want to be treated" comes into play, this is it. 
However, you may come to the conclusion that the expectations surrounding the interview presentation is a walk in the park compared to the real pressures of the job. Or that you require a seasoned professional who has the ability to recover from their fumbles quickly.  Or is comfortable with ambiguity and is quick on their feet.  Only your interview panel can decide how much weight to give a less-than-stellar performance.  
​Test the candidate's ability to respond to a brief
​Assuming your interview presentation instructions were clear, did the candidate understand and execute on the brief?  Did they call or email you questions to clarify?  Or did they perhaps wait until the day of the presentation to execute and eliminate their window to contact you? Did they meet or exceed your expectations? 
A response to a brief can indicate if the candidate: 

Understands requirements
Will seek help when needed
Can anticipate what a manager may be looking for or will show initiative and present additional useful information that the manager may not have considered. 
Last Word
Give candidates clear directions in your brief and be clear about what you are evaluating in the interview presentation. This will be a stressful situation for any candidate. Help them prepare by anticipating and answering as many questions as you can for them in the brief.  
The good news is that a lot of the work for a presentation-style interview is done by the candidate.  The bad news is that it doesn't let you off the hook.  Presentation-style interviews require more preparation on your part than Q & A interviews, not less.  
---